How to Order
Inquiry / Request for Estimate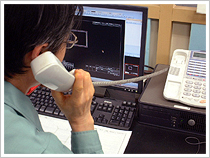 We will respond promptly to inquiries about vacuum tanks and requests for estimates from customers via email, phone, and fax. A more accurate estimate is possible if you can present the drawings, specifications, etc. We accept pictures, sketches, and other inquiries about semi-custom order-type vacuum tanks.


Specification decision / contract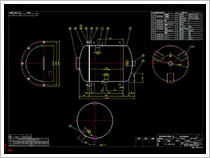 Features: Designs are unnecessary for our semi-custom order vacuum tanks. Please send us an order form if you agree with the submitted quote. After ordering, we will create a specification confirmation diagram based on the contents of your order and submit it, so no design is necessary. If the confirmation diagrams meet your approval, please check the approval box to confirm your oder. It then becomes a contract after completing a mutual confirmation of the specification confirmation drawings, quotations, delivery dates, and payment terms. In addition, customers who cannot open an account can also make a contract with a trading company.
Vacuum tank preparation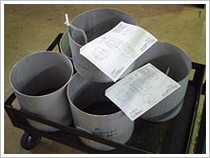 We prepare vacuum tanks the following way.
We process the order confirmation.
Create a final product design.
Check our stock for materials and make necessary purchases.
Processing of the vacuum tank before welding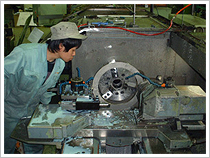 We will process each part according to the need for accuracy. (Photo: a technician machining a VL-VF flange to the proper specs)
Welding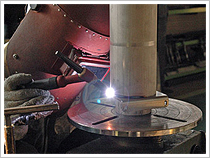 The welding of the vacuum chamber and the vacuum tank is performed by TIG welding. We are welding SUS304. After welding, we perform a nondestructive inspection of welds by color check.
Finishing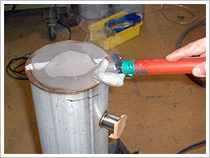 After the machining process, the parts that cannot be machined are manually finished. We will remove the welding burn marks by electrolysis.
Inspection (Leak Test)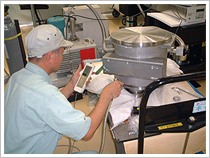 After finishing, we perform a dimension measurement to determine if it is manufactured with the dimensions and accuracy as shown in the drawing, and a leak inspection is performed to check for leakage.
Delivery Process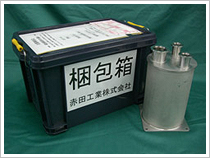 For our customers in Japan, we ship our vacuum tanks in a special packing box that can be returned to us. This creates less garbage for our customers and allows us to reuse the box.