【New product】 Large Cylindrical Vacuum Chamber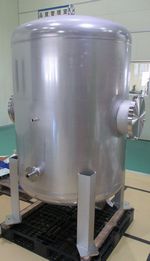 【Features of Large Cylindrical Vacuum Chamber】
The catalog model is up to Φ406.4, but we also manufacture tanks up to Φ1,500 and up to L3000.
Maximum capacity is 1000ℓ
This specification is an example


size
Φ1000 × 1882
Mounting parts
JIS vacuum flange VG250
JIS vacuum flange VG50
NW flange NW16 × L50
Drain socket Rc1

Eye-nut
【Features of semi-custom order Vacuum Tanks】
It is a semi-standard product, and you simply need to specify the typical dimensions and no design is required.
As a result, you can order a semi-customized product as easily as purchasing a standard item.
A wide range of options can be easily selected simply by specifying the type and number of mounting ports and so on.
Because parts are standardized and stocked, you can buy at one low cost.
【Advantages of semi-custom order】
Easily Customizable ... You can freely and easily customize our standard products with a variety of options.
Fast Production ... From design to production, we deliver products faster than our competitors.
Order Flexibility ... We can fill orders from one unit and up.
Quick and Reliable Estimates ... Our prices and estimates for our standard products are easily obtained from our website.
【Application of semi-custom order type Cylindrical vacuum chambers】
Vacuum adsorption
Vacuum drying
Vacuum impregnation
Vacuum defoaming
Can be used as a reservoir tank or buffer tank.